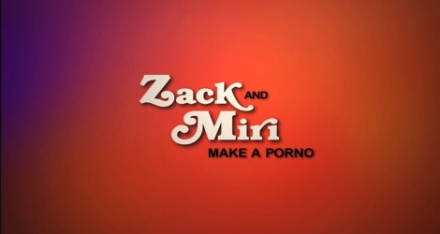 This flick is probably the filthiest romantic comedy ever, and one of Kevin Smith's better movies.
Zack & Miri
has more laugh-out-loud moments than
Mallrats
&
Clerks II
combined. Right now, I'd have to rank
Z&M
up there on my list of Smith movies, probably at No. 3 behind
Chasing Amy
and
Jersey Girl
, and only slightly ahead of
Dogma
, but I'll probably have to watch it one more time before solidifying the final rankings.
Thestory was pretty straight forward and predictable, but the movie'sstrength relies on the performances. Rogen pretty much plays the samecharacter that's made him a star, but the biggest surprise is ElizabethBanks. She is able to combine the raunch with the heart, and she comesoff as charming and cute. Banks is by far the best leading lady in anyof Smith's films, but then again she doesn't have too much competition(I'd say Liv Tyler is the only person to give her a run for her money).Craig Robinson ("The Office") steals the show as Rogen's friend andproducer, and the View Askew alums (Jason Mewes & JeffAnderson) have some decent post-Jersey performances. There are somememorable cameos to boot. Let's just say I won't look at a Mac ad orSuperman the same way again.
Overall, it was exactlywhat I expected. It was raunchy, obscene, but with some sweetnessthrown in there for good measure. My only gripe is how people are goingto say Smith is making an Apatow film, when we all know Smith wasmaking these kind of flicks way before
The 40 Year Old Virgin
wasa hit. But it was kind of cool seeing the two Comedy Families (ViewAskew & Apatow & Co.) meet on screen. Hopefully, thisis the first of many collaborations.